Our Company
B&R Gulf LLC is a joint venture company between B&R Enclosures Pty Ltd (Australia) and KFB Manufacturing Group (Saudi Arabia).
B&R Gulf was established in January 2017 and a new factory was set up to supply a range of product solutions. The facility is located in Dammam and specialises in supplying to the local region including Saudi Arabia, Bahrain, Oman, Qatar, Kuwait, UAE, Iraq and North African Countries (MENA region).
The parent company, B&R Enclosures was founded in 1955 and has built a reputation for excellence in the design and manufacture of enclosure and cabinet solutions, culminating in the position as Australia's largest enclosure manufacturer and electrical equipment integration specialist. B&R's principle value proposition is to provide complete enclosure and equipment integrated solutions for the protection of equipment and the safety of people who install and operate them.
All B&R operations throughout the world champion the virtues of quality, innovation, service and value. The emphasis on these values has sustained B&R's growth. The company has numerous Australian manufacturing, sales and distribution facilities as well as facilities internationally in China and Saudi Arabia. B&R Enclosures has an international network of distributors.
B&R Gulf specialises in supplying the following industries:
Mining – open pit and underground
Oil and gas – oil rigs, refineries, on-shore/ off-shore, and oil and gas treatment plants
Pharmaceuticals, petrochemicals & fertilisers
Conventional power generation as well as natural gas, wind and solar energy
A large range of industrial projects including water and waste water plants
Agriculture sites and grain silos
Data centres and telecommunications
Road and rail infrastructure
System integrations – complete value added solutions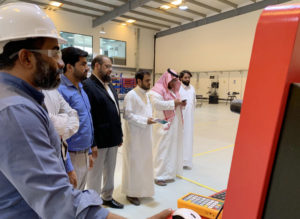 Our Capabilities
Specifically set up to deliver electrical equipment and wiring integrated solutions for customers operating in hazardous environments as well as outdoor, weather proof requirements, B&R Gulf's operations include the following local manufacture, assembly and integration capabilities:
Complete manufacture of 19" rack IP55 enclosures eg iLinq
Ability to fabricate stainless steel enclosures – up to IP66
Facilities for shearing, bending, welding, gasketing and assembly
Powder coating facilities are offered by a co-located partnership
Full design with detailed drawings preparation, components selection, assembly, wiring, in-house schematic testing, FAT for both Industrial and Hazardous area assemblies.
Ability to quote complete value add integration solutions for LV electrical requirements of plants
Site support for installation, commissioning and modifications
Complete pre-qualification submissions proven by major clients like ARAMCO, SABIC & MARAFIQ
Logistics for export of products to MENA region
Sourcing of allied products required for holistic project solutions
As an experienced local manufacturer and supplier B&R Gulf offers competitive pricing, short turnaround and on-time deliveries for a range of products that are specifically suited to applications in this region such as:
Explosion-proof electrical equipment

Junction boxes, local control stations,, distribution boards, switchracks, sockets and plugs

Hazardous area lighting
Electrical integration on all indoor and outdoor industrial enclosure solutions

RTU's, motor control centres, marshalling panels, distribution boards, PLC panels